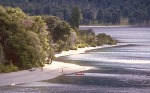 Bariloche, Argentina is the Gateway to Patagonia. Here you'll find the Andes mountains, glacier-fed lakes, national parks, adventure sports like rafting, biking and fly fishing - and more scenic views than you can capture on film. With the current exchange rate, foreign tourists will find that even a small budget can lead to big fun.
You have to experience Bariloche to fully appreciate this magical place.

BarilocheTrips is dedicated to providing high quality vacation packages, personalized to meet your needs and your budget. Whether you're looking for a complete package with lodging, transfers and activities, or are only interested in certain items we offer, we can help you organize your vacation and save you time. We help independent travelers enjoy Bariloche to the fullest.

Reserving before arrival assures that you will spend more time enjoying and less time worrying about planning. We help you find the quality services you expect with no surprises. Our international staff is on-hand to help you plan your trip.

Browse our offerings and let us know how we can help you put together a great trip to Bariloche!