Skiing and Snowboarding in Bariloche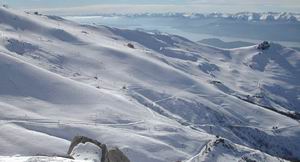 The Patagonian Andes are enjoyed by thousands of skiers and snowboarders each year, and is an interesting option for all levels of enthusiasts. The season runs from mid-June until early-October, offering a unique way to spend what most northerners would consider a summer vacation. Mount Cathedral is one of Argentina's premier ski centers, with plenty of attractions for all budgets.

Catedral Alta Patagonia is the name of the company that holds the concession to operate the lifts and is in the middle of a long-term plan to modernize and expand the lifts on what is already considered to be the biggest and most developed ski resort in South America. With almost 7000 feet (2100 m) of vertical drop from summit to base and almost 1500 acres (600 hectares) of skiable terrain, all levels of skiers and snowboarders will enjoy the mountain.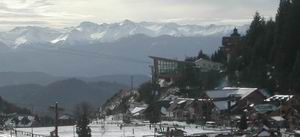 All together there are 40 lifts, more than 35 groomed runs, for beginner to advanced level skiers, 21 on-mountain cafes and restaurants, and several popular off-piste runs that are reachable by short hikes. For those working on perfecting their style, numerous instructors fluent in Spanish, English, Portuguese, Italian, and even German are available at prices you probably will not find in Europe or North America. The base is located about 15 miles from downtown Bariloche and is easily reached on a paved road. With the increase in popularity of snowboarding, both free style and free ride areas are waiting to challenge all levels of riders. Although it may not be as big as the ski resorts in Switzerland or Colorado, Mount Cathedral holds international competitions and is well-known throughout the skiing and snowboarding world.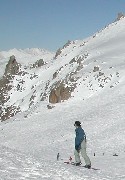 Cerro Catedral (the name in Spanish) is known for its impressive views and variety of slopes, but also offers plenty of restaurants, bars, hotels, cabins, and equipment. Hard core enthusiasts will have little reason to leave the base, but the trip to downtown Bariloche is well worthwhile for its nightlife and shopping opportunities.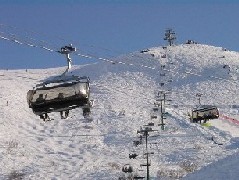 Whether you choose a 15, 7, 3, or 1-day pass, you will have access to all the lifts and slopes. Beginner areas are available for those who need more practice, and the mountain is open to non-skiers as well to come and enjoy a hot chocolate in one of the many on-slope restaurants and chateaus.
---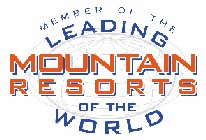 General information

Base Elevation: 3,380 ft. /1,030 m
Summit Elevation: 7, 837 ft./ 2,388 m
Runs Maximum Elevation: 6,892 ft. / 2,100 m
Vertical Rise: 3,512 ft. / 1,070 m
Terrain: 1,482 acres / 600 hectares

SNOWFALL AVERAGE DURING SEASON (ACCORDING TO STATISTICS)

Summit (7,837 ft.): 236 inches / 6 meters
Intermediate (5,251 ft.): 118 inches / 3 m
Base (3,380 ft.): 59 inches / 1,5 m

2007

Low Season:

From June 16th to June 22nd, and from September 1st to mid-October.

Mid Season:

From June 23rd to July 6th, and from August 4th to August 31st.

High Season:

From July 7th to August 3rd.