Bariloche is not just for skiing!
Northern Patagonia boasts mild temperatures great for outdoor activities such as fishing, hiking, kayaking, horseback riding, rafting, bicycling and more. The Lake District is a favorite for all ages, with some of the most amazing scenic views found anywhere in the world, including several national parks. From December to March, the southern hemisphere summer is a great time to visit. You may never go back home!
BarilocheTrips can help you with your travel needs for the whole northern Patagonia area, with options including several stops in different cities in both Argentina and Chile. Click here for some summer travel package options!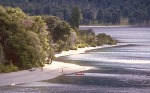 Bariloche est le portail á la Patagonie. Vous y trouverez la Cordilliére des Andes, des glaciers, des parcs nationaux, des lacs, des sports d´aventure comme le rafting et la Pêche et des superbes panoramas que vous pouvez capturer sur vos caméras. Vue la monnaie de change qui favorise les touristes étrangers, vous pouvez passer un trés bon séjour avec un petit budget.
Il faut connaitre Bariloche pour apprecier la magie de ce lieu grandiose
Lire la suite...
Pour beaucoup de voyageurs dans le monde, le mot Patagonie représente de grandes étendues vierges, de hautes montagnes, beaucoup de lacs et surtout, se trouver au bout du monde!
Lire la suite...